Sir Woolf Fisher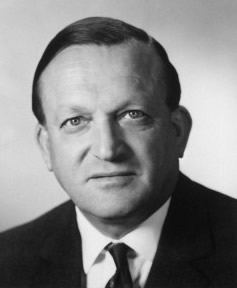 The co-founder of Fisher and Paykel and foundation Chairman of New Zealand Steel, Sir Woolf Fisher (1912-1975) was passionate about education, and believed that secondary teachers and principals weren't given enough recognition. He established the Woolf Fisher Trust in 1960 to fund overseas travel fellowships for deserving teachers so that they would become more broadly knowledgeable and bring back ideas which would continuously enrich education in New Zealand.
Sir Woolf was known to gain great pleasure from awarding Fellowships and created an element of surprise for the recipients by conferring the awards as opposed to inviting applications.
His kindness and generosity were also reflected in his emphasis on staff welfare.
In 1964 Woolf Fisher was knighted for his outstanding contribution to industry and education in New Zealand.
Woolf Fisher Trustees
Sir Noel Robinson, Chairman
Dr Nigel Evans, Secretary
Mr Douglas Armstrong
Mr Peter Masfen
Mr Mark Robinson


Sir Noel Robinson, Chairman, is Sir Woolf's nephew. He founded Robinson Industries in 1970 and was managing director and chairman until his retirement in 1999.
He is also chairman of the Sir Woolf Fisher Charitable Trust, the Counties Manukau Pacific Trust and several private companies. He is a trustee of John Walker Field of Dreams. He was appointed to a Knighthood in 2006 for services to business and the community.
Dr Nigel Evans, Secretary, has his own engineering consultancy company.
He obtained his doctorate in physics at the University of Cambridge and was invited back to New Zealand in 1968 by Mr Woolf Fisher to manage and develop the technology at the newly-established company, New Zealand Steel.  In 2013 he was appointed an Officer of the New Zealand Order of Merit for services to education and the steel industry.
Mr Douglas Armstrong is a former member of the Auckland City Council and a former president and CEO of UNITEC.
He is a distinguished fellow and past president of the Institution of Professional Engineers NZ and a former member of the Prime Minister's Enterprise Council and many other boards and national committees associated with tertiary education and engineering.
Mr Peter Masfen is chairman of Masfen Holdings and Property for Industry and past chairman of the Montana group of companies.
He is a director of the Auckland Regional Chamber of Commerce, Greymouth Petroleum and Mount Linton Station. He is a trustee of King's College Auckland and King's School Auckland and The Northern Club.  In 2016 he was appointed a Companion of the New Zealand Order of Merit for services to business and philanthropy.
He has won seven national rowing titles and represented New Zealand at the Tokyo Olympics.
Mr Mark Robinson is Sir Woolf's great-nephew.  He is managing-director and sole shareholder of Avery Robinson, New Zealand distributor for Dyson Appliances, which he co-founded in 1997.
He has a Bachelor of Social Science from the University of Waikato and is a member of the board of trustees of Cockle Bay Primary School.
He has wide interests including fitness, technology and motor racing.